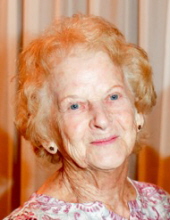 Obituary for Amelia "Millie" Studinski
A Memorial Mass will be held at 11:00 a.m. on Saturday, October 29, 2016, at St. Joseph's Catholic Church in Chisholm with Rev. Fr. Fred Method celebrating. Visitation will be for one hour prior to the Mass at the church on Saturday. Inurnment will be in Chisholm Cemetery. Arrangements are entrusted to Rupp Funeral Home & Cremation Service in Chisholm.

Amelia "Millie" Studinski, 87, of Chisholm, died Thursday, October 13, 2016, surrounded by family. She was born on November 10, 1928, in Chisholm to John P. and Mary (Rutkowski) Dombrowski.

Amelia was a 1946 graduate of Chisholm High School. After graduation, she worked in Chicago, IL, where she met her husband, Ernest A. Studinski, on a blind date. They were married on April 23, 1949, at St. Hyacinth's Church in Chicago. They returned to Chisholm in 1957. Amelia was a stay-at-home mom, raising her three children and later babysitting her grandchildren and great-grandchildren.

She enjoyed attending her grandchildren's sports, crossword and jigsaw puzzles, tending her flowers, baking (especially desserts) which everyone enjoyed. She was a member of St. Joseph's Catholic Church and a Minnesota Vikings fan.

Amelia is survived by her son, Bob (Brenda) Studinski of Chisholm; two daughters, Diane (Rick) Oman of Chisholm and Sharon (Troy) Eykyn of Mankato, MN; nine grandchildren, Sheri (Steve) Anderson of Lemmon, SD, Patrick (Krista) Oman of Chisholm, MN, Kristi (Ron) Appelman of Chisholm, MN, Dion (Ann Trent) Studinski of Denver, CO, Kaylee, Jessica and Johnathon Eykyn of Mankato, MN, Jinny (Quinn) Palin of St. Paul, MN, and Leigh Johnson (Dave Stubblefield) of Hibbing, MN; eight great-grandchildren, Kyle (Jessica Barto) Oman, Hastey, Cody, and Chloe Oman all of Chisholm, Skylar and Rylee Appelman of Chisholm, Peyton Anderson of Lemmon, SD, and Alexa Stalboerger of Hibbing; two great-great grandsons, Tripp and Ryder Oman of Chisholm; one great-great-granddaughter, Elena Moberg; two sisters, Helen Citko of Chicago, IL, and Anne Kyp of Deland, FL; sisters-in-law, Veryle Dombrowski of Virginia, MN, Cleo Dombrowski of Eveleth, MN; many nieces, nephews and cousins and the Studinski in-laws of Stevens Point, WI. She was preceded in death by her parents; husband, Ernest A. on 8/23/2001; brothers, Waclaw "Curly", Stanley and Edward; sister, Vicki Kendzior; an infant brother; and a granddaughter, Shelley Oman in 1970.
Previous Events
Visitation
St. Joseph's Catholic Church
113 SW 4th Street
Chisholm, MN 55719
Memorial Mass
St. Joseph's Catholic Church
113 SW 4th Street
Chisholm, MN 55719