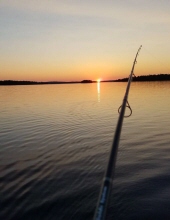 Obituary for Ann Rose Pluth
A private, graveside service celebrating the life of Ann Rose Pluth will be held at Chisholm Cemetery. Arrangements are entrusted to Rupp Funeral Home & Cremation Service in Chisholm.

Ann Rose Pluth died Sunday, February 19, 2017, at Aspen Grove Assisted Living in Chisholm. She was born June 3, 1923, in Hibbing to Jacob and Theresa (Sudar) Smokrovich and was a longtime Chisholm resident.

Ann was united in marriage to Anton Pluth on September 13, 1941, in Hibbing. She was a member of St. Joseph's Catholic Church in Chisholm, KSKJ, and the Slovenian National Home. She enjoyed fishing, gardening, and dancing.

She lived in the home that she and Tony built until a fall confined her to assisted care. Her loving and attentive son, Bill, had visited her every day since his father's death and was instrumental in maintaining her independence in later years. John and Mary Ann thank our brother, Bill, for his care and presence to both of our parents.

Survivors include her children, John (Barbara) Pluth of Escondido, CA, Mary Ann (Martin) Zakrajsek of Richland, WA, William (Lisa) Pluth of Chisholm, MN; five grandchildren; eight great-grandchildren; brother-in-law, Dr. James (Jayne) Pluth of Rochester, MN. Ann was preceded in death by her husband, Anton Pluth in 1998 after 56 years of marriage; sisters, Mary Van Hooser, Mandy Nelson, Lucille Hanegmon and Martha Collyard; and brother, Jack Smokrovich.