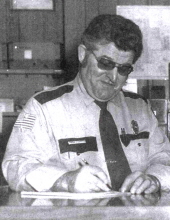 Obituary for Boz "Robert" Nenadich
Per Boz's request, there will be a private family service at a later date. Arrangements are entrusted to Rupp Funeral Home & Cremation Service in Chisholm.

"Boz" Robert Nenadich, lifelong Chisholm resident, died on Wednesday, August 23, 2017, at Heritage Manor Health Care Center in Chisholm. He was born December 20, 1926, in Chisholm to Simo "Sam" Nenadich Sr. and Julka "Julia" (Mramor) Nenadich. Boz attended Chisholm High School. He served in the U.S. Navy during WWII in the Pacific Theater and afterward served in the Army National Guard. He worked for U.S. Steel, was an accomplished barber, worked for the Chisholm Fire Department, and retired in 1984 as a lieutenant in the Chisholm Police Force.

Boz was known to flip houses for many years before there was even a term for such hard work. He was proud to have remodeled 50 properties. He was a member of the Chisholm American Legion Press-Lloyd Post No. 247, former VFW #8510, the former Chisholm Moose Club, and was a charter member of the Slovenian National Home Association. He will be remembered for his dedicated work ethic.

Survivors include his children, Sam A. Nenadich and Mary Jean (Mike) Lesch; sister, Mary Young; special friend, Dayis Begich; and many nieces and nephews. He was preceded in death by his parents; son, Robert; his only wife, Jean Nenadich; and brothers, Lubo, Sam, and Joe.

Memorials are preferred to the Chisholm Community Foundation.
Memorial Contribution
Chisholm Community Foundation