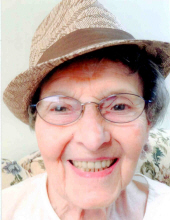 Obituary for Emma P. Franzinelli
A Mass of Christian Burial will be held at 2:00 PM on Saturday, November 19, 2016, at St. Joseph's Catholic Church in Chisholm with Fr. Anthony Craig celebrating. Visitation will be from 1:00 PM until the service at the church on Saturday. Inurnment will be at a later date in Chisholm Cemetery. Arrangements are entrusted to Rupp Funeral Home & Cremation Service in Chisholm.

Emma P. (Romano) Franzinelli, 96, died Monday, November 14, 2016, at Evergreen Terrace in Grand Rapids. She was born on December 7, 1919, in Chisholm to Carlo and Ida (Oberto) Romano – immigrants from northern Italy. Emma was a graduate of Chisholm High School, class of 1937. She enjoyed being part of the Chisholm High School choir.

Emma worked as a care giver until she met and married her husband, Joseph. They were married at St. Joseph's Catholic Church on August 30, 1941.

While Joe was active in WWII, Emma worked as a sales clerk. Upon his return from the war, they lived in Hibbing and later moved their family to Chisholm. Emma was a proud "stay at home" mom, always putting her family first. She enjoyed cooking and baking, planting her flower gardens, and she had a great sense of humor. As Joe and Emma entered their golden years, they enjoyed the occasional casino trips with their friends. She loved playing card games with her family and friends, especially smear. Emma was a member of St. Joseph's Catholic Church. She was a good and loving mom, grandma, great-grandma and great-great grandma.

Emma is survived by her daughter, Nancy White; grandchildren, Pam (Ronald) Rivera, Joseph (Jodah) Franzinelli, Lisa Franzinelli; five great-grandchildren; five great-great-grandchildren; five nieces, Audrey, Carol, Susan, Gemma, and Lily; and brother-in-law, Louis Cremers. She was preceded in death by her parents; husband, Joseph; sisters, Frances, Lillian, and Teresa; brother, Max; son- and daughter-in-law, Richard and Sharyn; and son-in-law, David.

The family wishes to thank the staff of Hillcrest-Adams for the special care and concern shown to Emma over the past five years. Also, thank you to Evergreen Terrace in Grand Rapids. Special thank you to Dr. William Durie for the care and kindness he gave Emma over the years.
Previous Events
Visitation
St. Joseph's Catholic Church
113 SW 4th Street
Chisholm, MN 55719
Mass of Christian Burial
St. Joseph's Catholic Church
113 SW 4th Street
Chisholm, MN 55719