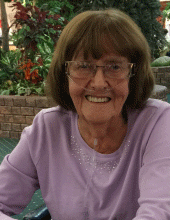 Obituary for Eva Laural Quirk
Eva Laural Quirk 76, of Chisholm, died Friday, January 20, 2017, at Fairview Range Medical Center in Hibbing. She was born September 27, 1940 in Thief River Falls, MN to Selmer and Elvina (Dyrdahl) Urdahl. She had been a Chisholm resident for most of her life and was a Chisholm high school graduate. Eva was united in marriage to Robert L. Quirk, December 28, 1958 in Gogebic, Michigan.

Eva was employed with Hibbing Electronics and was a member of Grace Lutheran Church in Chisholm. She was proud to be a homemaker most of her life and loved spending time with her grandchildren. Eva was very grateful to be a lung transplant recipient fifteen years ago and considered herself to be very blessed.
Eva's family would like to thank Dr. Durie, Heritage Manor, and the Fairview Range Medical Center, including the transplant team, for the wonderful care she received.

Survivors include her children: Jeffery, Jim (Vicki), Laurie (Jim) Kne, Lisa (John) McDonald, and Quentin; grandchildren: Aaron (Shannon) Kne, Jennifer Kne, Alyssa and Sara McDonald, Cory and Jamie Quirk, and Poem Quirk; sister: Betty Anderson; and many nieces and nephews. She is preceded in death by her parents, husband Robert, brothers: Einer, Eidor, Dennis, David and Howard; sisters: Orla, Sella, Joann and Eva Laural.

At Eva's request a private, memorial service celebrating her life will be entrusted to Rupp Funeral Home & Cremation Service in Chisholm.