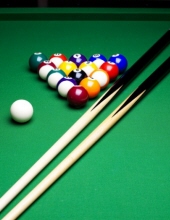 Obituary for Gail Marie Lessar
A memorial service will be held at 12:00 p.m. on Tuesday, March 6, 2018, at Chisholm Baptist Church with Rev. Dan Erickson officiating. Visitation will be held for one hour prior to the service at the church on Tuesday. Inurnment will be at a later date in Maple Hill Cemetery, Hibbing. Arrangements are entrusted to Rupp Funeral Home & Cremation Service.

Gail Marie Lessar, 56, of Hibbing, died Tuesday, February 27, 2018, at her home. She was born December 18, 1961, in Chisholm, MN, to Edward and Helene (Atkinson) Belanger.

Gail was united in marriage on September 18, 1992, in Hibbing to John Steve Lessar. She worked as a Personal Care Attendant for Cherish. Gail enjoyed shooting pool, driving John around, playing cards, and spending time with her family.

Survivors include her husband, John; children, Tanya (Leonel Dorvil) Belanger of Edina, MN, Isaac Lessar of Hibbing, MN, and Marley Lessar of Fargo, ND; grandchildren; Sydney Dorvil (12), Avaugn Dorvil (11), Isabelle Dorvil (7), Titan Dorvil (8 mos.), Sariah Lessar (6); mother, Helene Belanger of Minneapolis, MN; brothers, Edward (Audrey) Belanger II of Chisholm and Charles (Mewha) Belanger of Chisholm; sister, Debbie Belanger of Chisholm; father- and mother-in-law, John and Shirley Lessar of Virginia, MN. She was preceded in death by her father, Edward Belanger of Chisholm, MN.
Previous Events
Visitation
Chisholm Baptist Church
901 6th St SW
Chisholm, MN 55719
Memorial Service
Chisholm Baptist Church
901 6th St SW
Chisholm, MN 55719