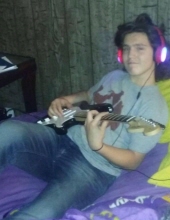 Obituary for Josah Kale Papberg
A Memorial Gathering will be held from 1:00 - 3:00 p.m. on Friday, August 25, 2017, at Rupp Funeral Home & Cremation Service Chapel in Chisholm.

Josah Kale Papberg, 15, of Chisholm died Monday, August 14, 2017. He was born November 30, 2001, in Grand Rapids, MN. Josah enjoyed all music, and especially liked playing guitar. He was an excellent cook and enjoyed online gaming/streaming, joking, and memes. He loved supporting his family and others.

Josah is survived by his mom, Crystal Papberg; and dad, Phillip Medina; brother, Elliot Kmett; grandmas, Karen Marino and Cherilynn Roush; grandpa, William Papberg; aunts, Siri Papberg, Dina (Travis) Roush, Susan Lonnquist; uncle, Tim (Marylou) Medina; cousins, Sassina and Isaac Nyman, John, Jesse, and Brooke Roush, Darin and Daniel Lonnquist; his beloved pets, Waffles, Crockett, and the cat formerly known as Prince. He was preceded in death by his grandma, Lanarae Papberg; great-grandma, Sharon Pagel; and great-grandma, Sally Blanchard.
Previous Events
Memorial Gathering
Rupp Funeral Home & Cremation Service Chapel
205 NW First Street
Chisholm, MN 55719