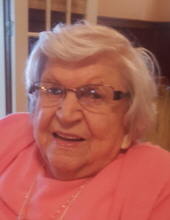 Obituary for Kathryn Marie (Giovanini) Glowaski
A Mass of Christian Burial will be held in May at St. Joseph's Catholic Church with Fr. Anthony Craig celebrating. Details for the celebration of Kathryn's life will follow. Interment will be in Chisholm Cemetery. Arrangements are entrusted to Rupp Funeral Home & Cremation Service in Chisholm.

Kathryn Marie (Giovanini) Glowaski, 97, of Chisholm, loving great grandmother, grandmother, wife, mother, and aunt was taken to heaven by the angels on Tuesday, March 21, 2017, in Chisholm.

She was born on February 12, 1920, in Chisholm, MN, to Antonio and Caterina Giovanini. Her family was one of the first to settle in Lakeview, and ran a dairy farm on the hill.

Kathryn and her husband, Robert Glowaski, remained in Lakeview and ran a greenhouse from their home. For many years, Chisholm and the surrounding communities were adorned with the beautiful plants and flowers they lovingly grew. They took great pride in remembering which plants customers wanted for their loved ones. Kathryn also invited children from the Range Daycare Center into the greenhouse for field trips, where they would learn how to love and care for plants.

Kathryn's favorite pastime was going to Pelican Lake and visiting with her family. She would enlighten the groups with many tales about past family and friend adventures. She wore the hat of caretaker, and always was available to help family and friends when they were in need.

She is survived by her son, Robert James Glowaski of Chisholm; her daughter, Kathleen (Dr. Richard) Trdan of Saginaw, MI; her grandchildren, Jennifer (Steve Hall) Trdan, Allison (Kurt Martin) Trdan, Paul (Suzi) Trdan; her great-grandchildren, Cole, Myles, and Emily; and many nieces and nephews.

She was preceded in death by her parents; husband; and siblings, Adele (Jack) Sterle, Rose (Albert) Galler, John (Angeline) Giovanini, and Margaret, Catherine, Robert, and Bobby (who all died as children).
Previous Events
Visitation
St. Joseph's Catholic Church
113 SW 4th Street
Chisholm, MN 55719
Mass of Christian Burial
St. Joseph's Catholic Church
113 SW 4th Street
Chisholm, MN 55719
Cemetery Details
Location
Chisholm Cemetery
Cemetery Road
Chisholm, MN 55719