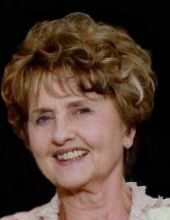 Obituary for Mary Esther Hovland
Funeral Services will be held at 12:00 PM on Wednesday, January 18, 2017, at Emmanuel Baptist Church, 93 Midway Drive, Virginia, MN, with Rev. Jay Bunker officiating. Visitation will be for one hour prior to the service at the church on Wednesday. Interment will be in Hoyt Lakes Memorial Cemetery at a later date. Arrangements are entrusted to Rupp Funeral Home & Cremation Service.

Mary Esther Hovland, 83, of Eveleth, died Wednesday, January 11, 2017, at Greenview Residence in Hibbing. She was born in Des Moines, Iowa, to A.E. (Ed) and Esther Forsman. She was raised in Eveleth, MN. Upon graduation from High School in Eveleth, she moved to Minneapolis for two years and returned to Eveleth in 1953 where she married Mark Hovland. They lived in Hibbing briefly before moving to Hoyt Lakes where they raised their four children. After the death of her husband in 1991 she spent her remaining years on Ely Lake outside Eveleth.

Mary was a deeply spiritual Christian, actively involved in Bible studies, ministries and prayer groups over her lifetime. She was always physically active and loved dancing and scenic walks. She and her husband Mark spent many winter weekends together on the slopes of Giants Ridge or cross-country skiing on the beautiful trails in the surrounding Hoyt Lakes area. She shared her love of skiing as a downhill ski instructor at Giants Ridge into her 70's. She and Mark shared much of their free time in the early years of their marriage camping and snowmobiling with family and friends. In 1963 they built a family cabin on Sandpoint Lake along the northern Minnesota and Canadian border, still enjoyed by her family today. Throughout her life, she regularly visited and supported seniors in nursing homes. She loved her neighbors and friends wherever she lived.

Survivors include Keith Hovland (wife Debbie), Shelley Valentini (husband Patrick), Wendy Cregg (husband Casey), Lance Hovland (wife Kristin), one brother and three sisters, eleven grandchildren, and 10 great grandchildren.

She is preceded in death by her husband Mark Hovland, parents Ed and Esther Forsman and stepmother Dorothy.

Please direct memorials to United Way of Northeastern MN Buddy Backpack Program, 229 West Lake Street, Chisholm, MN 55719.
Previous Events
Visitation
Emmanuel Baptist Church
93 Midway Drive
Virginia, MN 55792
Funeral Service
Emmanuel Baptist Church
93 Midway Drive
Virginia, MN 55792