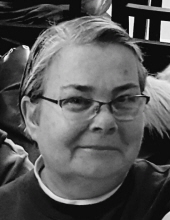 Obituary for Sharon Kay Vukad
LOVE OF MY LIFE FOR OVER FORTY YEARS, DEVOTED MOTHER AND GRANDMOTHER, A KIND AND GENTLE SOUL WHO HAD A SPECIAL WAY WITH ALL CHILDREN
You passed away at Wyoming Medical Center, Sunday, Oct. 30th, with me at your side loving you with all my heart, praying for a miracle and as I felt you slip away my heart broke with your passing.

I want you to know my love, there were so many people who tried to save you that day, from innocent by-standers who jumped to our aid, emergency crews who arrived, emergency doctors and nurses at the hospital and yes dear, there were people there trying to comfort me too.

We both thank all of you.

I need to tell everyone a little bit about you love.

Sherry, (she likes Sherry), was born July 14, 1952 in Hibbing MN to Lynn, (Bill), and Joyce Gaylord.

She graduated from Chisholm High School, Chisholm MN. in 1971. After graduating, she worked in Drill Bit Manufacturing, as the person who applied the fluting on drill bits.


We eloped to Orlando Florida and on July 16, 1976 we were married. Lucky me, I married, "My Shirley Temple Doll". I know dear, I'm bragging again!

Early in our marriage times got tough in the mining industry in Northeast Minnesota. So, to make money Sherry and I started a firewood logging business. To spend time as a family Sherry and our young children would go with me to the woods. While there, she would take the kids and go exploring, for rocks, deer, butterflies, whatever nature had to offer. Usually, it would include art and drawing as Sherry was very artistic. Sherry and the kids would peel a piece of birch bark off of a tree I had "fallen" and then she would sit on a log or stump with the kids and begin to teach our kids how to draw something they saw on the birch bark. I loved those moments as I saw her there, it was as if there was this warm glow that surrounded Sherry and our children.

Later in our marriage, Sherry worked as a kitchen helper for Crosby-Ironton Grade School, Crosby-Ironton MN, where our children went to grade school.

Sherry loved to be with family and friends and longed for the soon to come day when I would retire and we could move close to family and friends.

She loved to spend time with our granddaughters reading books, dressing dolls, doing crafts or art or shopping for clothes with the girls. When our grandsons came, she would play trucks and look through books with them or coo or whisper sweet nothings in their ears.

She treated all of our neighbor children here in Casper as if they were our grandchildren and gave them treats when they did well in school and let them play in our front yard, (word on the street was "we had the softest grass in the neighborhood").

Sherry has lifelong girlfriends back in Chisholm who grew up with her and have had many "rockin" times together and I'm sorry she has to come home this way. I know you all loved each other.

You gave birth to the first of our two children, Kelly, who is married to Dave Tuttle and have our two beautiful granddaughters, Juliette, (named after my mother) and Makayla, (the feminine form of Michael, her dad's middle name and Grammy Sherry's middle name). they reside in Zeeland MI.

Later we were blessed with our second child, James Ryan, who is married to Ricia and have our two strappingly handsome grandsons, Navin and Lexin. They reside in Chisholm MN.

Sherry's sister Sindy, (Tom Ralidak), and their two children, Lee our nephew, who is married to Ashley and our niece, Sheena, (Nick Mulner), and their daughter, Nora, all reside in Hibbing MN.

Sherry is also survived by my sister, Diane, (Robert Lavern), niece Lisa, (Eduardo Sardinha) their daughter Victoria and son EJ and Bob's son who we love as our nephew, Mitch who is married to Berri and also have two strappingly handsome sons Berkley and Louie.

Sherry has many cousins and friends of the family, our daughter's God Parents and their families.

Sherry was preceded in death by her parents, Lynn, (Bill), and Joyce Gaylord, her older infant sister Cheryle, and brother Duane.

So, love of my life, I've told everyone a little about you.

You were my friend, my soul mate, my everything, you gave me the strength and courage to do, knowing you had my back.

Please my love, help me now to find the strength within to love, to cuddle, to be as devoted as you have, so I have stories to tell you when we join together again.
Previous Events
Visitation
Rupp Funeral Home & Cremation Service Chapel
205 NW First Street
Chisholm, MN 55719
Memorial Service
Rupp Funeral Home & Cremation Service Chapel
205 NW First Street
Chisholm, MN 55719