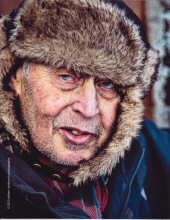 Obituary for George Edward Jadron
GEORGE EDWARD JADRON


George Edward Jadron, lovingly known as "The Can Man", 87, of Chisholm, passed away Saturday, April 28, 2018, in his home, after over a year of heart complications. He was born August 16, 1930, in Chisholm, MN, to John and Sophie (Michorczk) Jadron. George was a 1948 Chisholm High School graduate and a longtime Iron Range resident. He worked for Erie Mining, attended various churches, and was a member of the Chisholm Senior Citizens and the Museum of Mining. He enjoyed collecting metals, hunting, and fishing. George served his country in the National Guard and the U.S. Army.

George loved his hometown of Chisholm. He appreciated all the generous care and kindness given by so many. Special thanks to Greg and Barb Sjogren, Roland Shoen, John and Amy Alsaker, Paul David and Cindy Marturano of Valentini's, Michael and Di Valentini, Ken and Angie Hawkinson and to anyone else we may have missed. George spoke very highly of hospice and appreciated them so much. Special thanks to Marcia, Gus, Sue, Kathy, Jane, Ed, Steve, and the entire staff of Fairview Range Home Care and Hospice.

George spent years helping others by collecting cans and metals throughout Chisholm. He donated all of the proceeds to a wide variety of organizations. Thank you to everyone that saved metals for him to help in his endeavors.

He is survived by his son, John Jadron; sister, Ann Kitchen (Hibbing), Nieces and nephews: Judy Shea (Side Lake), Gary Kitchen (Alexandria, VA), Nancy Williams (Longwood, FL), Sandy Campbell (Champlin, MN), Paulette Anderson ( Lino Lakes, MN), Ruth Arndt (Placentia, CA) and Louis Collier (Burbank, CA) He was preceded in death by his parents, John and Sophie; daughter, Karen; half-sisters, Antoinette Collier, Rose Akin, Pauline Sonaglia and Florence Meli.

A Celebration of Life will be held at 5:00 p.m. on Thursday, May 3, 2018, followed by brief prayers at 6:00 p.m. led by Rev. Steve Tomberlin of Fairview Range Home Care and Hospice at Rupp Funeral Home & Cremation Service Chapel in Chisholm. Military honors will be accorded by Mid-Range Honor Guard. Inurnment will take place privately in Chisholm Cemetery. In lieu of flowers, memorials are preferred to the Fairview Range Home Care and Hospice in Hibbing.

To sign the guest book online and leave a memorial message, go to: www.ruppfuneralhome.com.
Previous Events
Celebration of Life
Rupp Funeral Home & Cremation Service Chapel
205 NW First Street
Chisholm, MN 55719
There will be brief prayers at 6:00 followed by Military Rites accorded my the Mid Range Honor Guard just outside of Rupp Funeral Home.