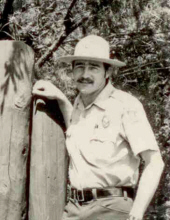 Obituary for Ronald DeWayne Karels
A Celebration of Life will be held from 1:00 - 3:00 PM with a time of sharing at 3:00 PM on Saturday, May 6, 2017, at Rupp Funeral Home & Cremation Service Chapel in Chisholm.

Ronald D. Karels, age 75, of Bear River, died Sunday, April 30, 2017, at Essentia Health St. Mary's Medical Center in Duluth. He was born September 26, 1941, in Elmore Township, MN, to Henry J. and Koyala M. (Hagge) Karels. He attended Rapidan High School. Ronald was united in marriage on June 27, 1959 in North Woods, Iowa to Joan L. Muellerleile. He lived and worked as a park manager in Minnesota State Parks at Frontenac, Flandrau, Blue Mounds, and McCarthy Beach before moving to Bear River. He enjoyed woodworking, rock hunting, panning for gold, hunting, fishing, and spending time with his family.

He is survived by his wife, Joan; children, Jolene (Paul) Boriin, Ronald L. (Denise) Karels, Joel Karels, Rochelle (Terry) Marty; grandchildren, Amanda, Ashley, Thomas, Levi, Jeffrey, Connor, Gina, Melissa, Katie; 13 great-grandchildren; brothers, Keith (Sharon), Jeffry (Darlene); sister, Sandra (Rodney Dahms) Jordan; sister-in-law, Donna Johannsen. Reunited in heaven with his loved ones are his parents, in-laws and a nephew.
Previous Events
Celebration of Life
Rupp Funeral Home & Cremation Service Chapel
205 NW First Street
Chisholm, MN 55719