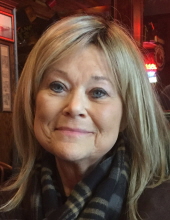 Obituary for Kerry Lee Duncan
A Celebration of Life will be held from 12:00 - 3:00 p.m. with a time of sharing at 12:30 p.m. on Friday, June 16, 2017, at Valentini's Supper Club in Chisholm. Private inurnment will take place in Chisholm Cemetery.

Kerry Lee Duncan, 65, of Side Lake, died Wednesday, June 7, 2017, at home surrounded by family. She was born November 2, 1951, in Corvallis, Oregon, to James D. and Lorraine L. (Heller) Duncan.

Kerry was a 1969 graduate of Chisholm High school and was a lifelong Chisholm/Side Lake resident. She obtained a Master's Degree in English from the University of Minnesota Duluth in 1978, and was an English instructor at Mesabi Range Community and Technical College in Virginia. Kerry was a co-founder of Range Women's Advocates, a former vice president of the Northeast Entrepreneur Fund, active member of Minnesota State College Faculty (MSCF), and a board member for the Northland Foundation. She enjoyed time at the lake, traveling, gardening, cooking, and spending time with family and friends.

Kerry is survived by her daughters, Sasha (Bill) Lehto and Natalie Zlebnik; two grandchildren, Courtney Anderson and Aiden Perkovich; sister, Kim (Tom) Lautizi; brother, Shawn Duncan Sr.; and numerous nieces, nephews, and friends. She was preceded in death by her parents and her brother, Scott Duncan.
Previous Events
Celebration of Life
Valentini's Supper Club
31 West Lake St.
Chisholm, Minnesota 55719
There will be a time of sharing at 12:30 p.m.