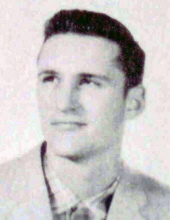 Obituary for John G. Kuyava
A Memorial Service will be held at 1:00 p.m., with visitation at noon, on Friday, November 10, 2017, at Chisholm Assembly of God Church at 430 Iron Drive, Chisholm. Arrangements are entrusted to Rupp Funeral Home and Cremation Service in Chisholm.

John G. Kuyava, 84, of Chisholm died Oct. 31, 2017, at Aspen Grove Assisted Living facility.

John was born August 21, 1933, in Duluth, MN, to John W. and Margaret Kuyava. He grew up in Duluth and attended UMD, then the University of MN, where he received a B.S. degree in Forestry.

John had a varied and interesting career as a US Forest Service Ranger for nearly 30 years. He served as the District Ranger at several locations including Munising, MI, and Tofte, Bena, and Cook MN. During his tenure John also served on teams fighting forest fires around the country. He retired from the La Croix District in 1984.

In 1954 John married Barbara Christensen from Hill City and together they had three sons and two daughters. During the 1980's, in tandem with his USFS career, John and Barb owned and operated the Montana Cafe in Cook, with assistance from their kids, Greg, Laurie, Tim, and Bruce. In 2005, Barb died in Goliad, TX, after a number of adventurous retirement years together, snow-birding between Minnesota and Texas.

In 2009, John went a-courtin' Cora Culbert of Chisholm and they were married in 2013, surrounded by a crowd of respective kids, grandkids, and dogs at the house in Chisholm where John and Cora then resided.

Besides knowing everything there is to know about trees, John was a talented woodworker, avid reader, and beloved intellectual companion with a quick wit. He loved skiing, golfing, canoeing, hiking in the woods, and most anything else involving nature. He enjoyed his church family in Chisholm and was especially fond of singing with the OldTimers' gospel band and attending men's breakfasts. He made a mean pizza, never turned down a game of Farkle, and tolerated Cora's dogs.

John was preceded in death by his parents; his first wife, Barb; his two daughters, Theresa and Laurie; and his brother, Gary.

He is survived by his wife, Cora Culbert; three sons, Greg (Christine) of Hopkins, Tim (Leah) of Angora, and Bruce (Char) of Duluth; five grandchildren, Katie, Olivia, Bruce, Deven, and Lucas; five great-grandchildren, Ben, Parker, Carlitos, Aleiyah and Sage; niece, Jill; nephew, Jeff (Jolynn); and numerous kids and grandkids of Cora, who held him dear.

A special thanks to Aspen Grove for their kindness and humor in serving John during the last months of his life.
Previous Events
Visitation
Chisholm Assembly of God Church
430 Iron Drive
Chisholm, MN 55719
Memorial Service
Chisholm Assembly of God Church
430 Iron Drive
Chisholm, MN 55719