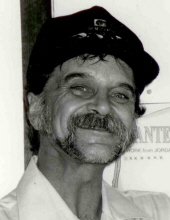 Obituary for Dennis Jay "Poufie" Pulford
A memorial service will be held at 11:30 a.m. on Saturday, December 30, 2017, at Rupp Funeral Home & Cremation Service Chapel with Pastor Rod Tuomi officiating. Visitation will be for one hour prior to the service at the funeral home on Saturday. Inurnment will be in Lakeview Cemetery, Buhl, at a later date.

Dennis Jay "Poufie" Pulford, 68, of Buhl, MN, left on his spiritual journey Saturday, December 16, 2017, at Essentia Health St. Mary's Medical Center in Duluth. He was born December 10, 1949, in Hibbing, MN, to Vern and Bertha (Hakala) Pulford. Dennis was employed at Fortune Bay Casino in the outdoor maintenance department for 12 years, and also worked at Mesabi Academy in maintenance for five years.

To all who knew Dennis, you know his life's stories. Just know he loved and cherished each and every one of you! He especially loved all the children in his family. They brought joy and purpose to his life.

Dennis is survived by his wife, Linda; son, Liam Woods-Smith; brothers, Warren, Donlee, Robert (Joanne), Scott, Aaron (Deb), and Michael (Tina) Pulford; sister, Jeanetta Pulford; aunts, Margaret Hakala and Loretta Deutch; multiple nephews and nieces, great nephews and great nieces; a great-great nephew; many cousins; and many, many friends.

He was preceded in death by his parents; brother, Craig Pulford; grandparents, Vernon and Cora Pulford and Mike and Mary Hakala; nieces, Kristina and Jessi Pulford; and cousins, Susan and David Hakala.
Previous Events
Visitation
Rupp Funeral Home & Cremation Service Chapel
205 NW First Street
Chisholm, MN 55719
Memorial Service
Rupp Funeral Home & Cremation Service Chapel
205 NW First Street
Chisholm, MN 55719