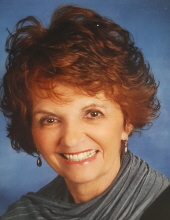 Obituary for Florine Marguerite Luther
A Memorial Mass and Celebration of Life will be held at 1:00 p.m., Friday, January 26, 2018, at St. Joseph's Catholic Church in Chisholm, MN, with Fr. Anthony Craig celebrating. Visitation will be for two hours prior to the service at the church on Friday. Inurnment will be held at a later date in Chisholm Cemetery. Arrangements are entrusted to Rupp Funeral Home & Cremation Service.

Florine Marguerite Luther, known to many as "Flo" or "Flossie" was born in Chisholm on December 28, 1939, and left to her eternal life on Sunday, January 21, 2018, surrounded by her loving family at St. Mary's Hospital in Duluth, after a very short illness.

Flo was loved by many and kept busy right up to the end. She raised her family in Buhl while working in the medical community, both in Hibbing and in Stuart, Florida. Flo resided for the past six years at the Lee Center in Hibbing where she was very active with all those that lived there, always planning activities, calling bingo, leading exercise groups, and taking charge of the Birthday Club. She will be missed by many of the residents there where friendships will never be forgotten. Flo was most recently a volunteer at the Fairview Hospital Gift Nook and also worked part time at the Hibbing Dollar Store to keep herself busy. When she wasn't taking care of others or working, she enjoyed the sports of curling and golf. Flo was a past member of both the Hibbing and Buhl Curling Clubs but would still pick up a game here and there. In curling slang she always had "that perfect" draw weight. Flo was an active member of the Hibbing Muni Women's Golf League, playing the game she loved to hate. Baking and entertaining others were gifts she shared with many and she loved to do both. Flo was a very classy lady who believed in the faith of God, making it part of her daily life.

Her family was the most important to her. As an only child growing up, Flo always knew she wanted a bigger family. She married Dennis Kealy in 1959, hence producing the Kealy kids: Kevin (Rita), Michael (Sheri), Denise (Art), Brian (Sandy), and Michelle (Dan). In turn, they gave her 11 grandchildren and 8 great grandchildren, whom she loved with all her heart. She will be missed in so many ways by all of them. She also leaves behind her sister-in-law, Florence, many wonderful nieces, nephews, cousins, and extended family, including her lifelong friends from Buhl, and all the wonderful people along the way who have filled her life. She was preceded in death by her parents, Mary and Florio Giannini; aunts, uncles, cousins, a sister-in-law, two brothers-in-law, and a nephew.
Previous Events
Visitation
St. Joseph's Catholic Church
113 SW 4th Street
Chisholm, MN 55719
Memorial Mass
St. Joseph's Catholic Church
113 SW 4th Street
Chisholm, MN 55719