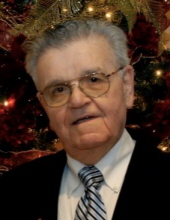 Obituary for John Bradovich
John Bradovich, 93, passed away peacefully on Friday, February 2, 2018 at Grand Village in Grand Rapids, MN. He was born on October 1, 1924 to Chisholm pioneers Nick and Martha (Badovinac) Bradovich and was a lifelong Chisholm resident.

After graduation from Chisholm High School in 1942, John volunteered for the legendary 517th Parachute Regimental Combat Team, enduring the same rigorous training as the Band of Brothers. The 517th helped break the rout at Anzio and fought from Rome to Civitavecchia. The unit was then trained for Operation Dragoon, the invasion of Southern France where they jumped behind enemy lines at 3 a.m. on August 15, 1944. Wounded twice in France, John rejoined his unit in Belgium for the Battle of the Bulge and later crossed the Rhine into Germany.

After the war, John went to work for the Oliver Mining Company/ U.S. Steel. In 1947, John married the love of his life, Rose Tobak, and they were blessed with four children. John was elected president of Steelworkers Local 1663 and negotiated miners' contracts. In 1959, he met then-candidate John F. Kennedy and convinced JFK to campaign in Hibbing. Active in DFL politics, John helped organize a packed rally for the presidential hopeful. In the early 1960s when iron ore production decreased, he was instrumental in passing the Taconite Amendment.

When John was in his early 40s, he juggled college studies with his mining job. In 1966 he received his A.A. degree from Hibbing Junior College, where he was awarded Top Scholar and Top Honor Student, graduating as Class Valedictorian. He completed his degree at UMD and began work as a speech therapist. During his university training, he was taught never to get close or personal with his students, but John said, "I did just the opposite." He coined special nicknames for them and developed creative and effective approaches to speech therapy.

He taught at the Mid-Range Special Education Cooperative and the Hibbing and Chisholm Schools. "Mr. B." was a beloved teacher, and he was fondly remembered by former students and their parents.

John's interests ranged from poetry and art to geology and physics. He was unfailingly gracious, kind, patient, and nonjudgmental. He loved animals and fed wildlife in his back yard. He set a sterling example for his four children who regarded him as their hero. The most important facet of John's life was his wife and family. A devoted friend to many, he regularly visited people in area hospitals and nursing homes. He will be missed by many. Zivili, John.

He is survived by his wife of 70 years, Rose (Tobak) Bradovich; his four children, Tom (Penny) Bradovich of Grand Marais, MN, Connie (Michael Pennock) Van Blarcum of Las Vegas, NV, Lea (Angus Lawson) Bradovich of Santa Fe, NM, and Bob (Susan Babcock) Bradovich of Eau Claire, WI; grandchildren, Sunnie (Travis) McQueen of Layton, UT, Nikki (Landon) Hampshire of Clearfield, UT, and Tyler (Whitney Francis) Bradovich of Clearfield, UT; four great-grandchildren, Alex Johnson of Ann Arbor, MI, Halle Johnson of Clearfield, UT, Gage Cassell of Clearfield, UT, and Ada Rose Bradovich of Clearfield, UT.

John was preceded in death by his parents, Nick and Martha Bradovich and his sister Mary (Frank) Kochevar.
Previous Events
Visitation
St. Joseph's Catholic Church
113 SW 4th Street
Chisholm, MN 55719
Mass of Christian Burial
St. Joseph's Catholic Church
113 SW 4th Street
Chisholm, MN 55719
Cemetery Details
Location
Chisholm Cemetery
Cemetery Road
Chisholm, MN 55719