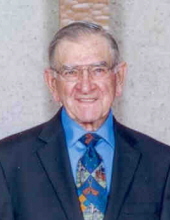 Obituary for Dr. Frank P. Heck
Dr. Frank P. Heck (née Hecimovich), 95, of Chisholm, died on Sunday, February 4th, 2018 at Fairview Range Medical Center in Hibbing.

He was born in Buhl on June 14, 1922, and was a 1940 graduate of Martin Hughes High School in Buhl. He earned an Associates degree in Chemistry from Virginia Junior College in 1942, a Bachelor's degree in Chemistry from the University of Minnesota in 1943, and a Doctor of Dental Surgery degree from the University of Minnesota in 1947.

He was united in marriage to Audrey McKersie of Melrose, MN on June 28th, 1947 in St. Cloud, MN.

He was a veteran of the U.S. Army in World War II, serving in Fort Hood, TX. He was recalled to Active Duty in 1951 as a Captain and served as the Battalion Dental Surgeon for the 75th Field Artillery in Korea. After returning to the United States, he was stationed with the U.S. Army Hospital Dental Clinic at Fort Riley, KS. For his service, he was awarded the World War II Victory Medal, the American Defense Medal, the Asiatic-Pacific Theater Medal, and the Korean War Service Medal.

He was a life-long Chisholm resident and practiced dentistry in Chisholm for 37 years, after which his daughter-in-law Karen continued the practice for another 27 years. He was a 70-year member of Press-Lloyd Post 247 of the American Legion, where he served as finance officer for many years, and as commander in 1964. He was a founding member and regular player at the Chisholm Curling Club, enjoyed many years of playing golf at the Mesaba Country Club, and loved having a good conversation with all those he met.

He was proceeded in death by his father John and mother Mary; beloved wife Audrey; sisters Kathryn and Victoria; brothers Nick, Tony, Dr. John, Steve, and Dr. Joseph; and granddaughter Sarah.

He is survived by a sister Ann Gober of Wood Dale, IL; sons Dr. Michael (Dr. Karen) of Boca Raton, FL and Paul (Elizabeth) of Bloomington, MN; grandchildren Chris of Minneapolis, MN, Laura (Mitchell) of Covington, WA, and Erik (Brianna) of Roxbury, CT; great-grandchildren Felix and Winston; and many nieces and nephews.

Funeral: private family services will be held at a future date.

Burial: his ashes will be commingled with his wife Audrey's remains and inurned at the Calvary Cemetery in Chisholm.