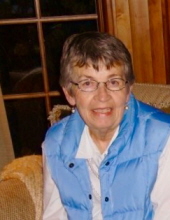 Obituary for Gloria Diane Hooker Simonson
A Memorial Mass will be held at 11:00 a.m. on Friday, March 23, 2018, at Our Lady of the Sacred Heart Catholic Church, Buhl, MN, with Fr. Anthony Craig as celebrant. Visitation will be for one hour prior to the service at the church. Inurnment will be held in Lakeview Cemetery, Buhl. Arrangements are entrusted to Rupp Funeral Home & Cremation Service.

Gloria Diane Hooker Simonson, 85, of Maple Grove, MN, died Wednesday, March 14, 2018, at Arbor Lakes Senior Living. She was born in Superior, WI, on July 25, 1932, to Doris and Edson Hooker.

Gloria was a precious, loving, kind heart who greeted everyone with a warm smile. She was an amazing mother who sacrificed much to ensure her seven children had all the support and love needed for a happy childhood and life. Gloria's support of her children was unwavering and extended to all of her extended children and grandchildren.

Gloria's upbringing in Superior, Wisconsin, instilled a love for life and family. She spent many summers with her brothers at their grandparents' farm in Trade Lake, Wisconsin. In 1953, she met Tom Simonson at a bonspiel in Duluth, Minnesota. They married in 1954 and started their family together in Buhl, Minnesota. Gloria and Tom enjoyed traveling to Arizona each winter. Gloria also enjoyed traveling with her mother, Doris, and her children.

Survivors include her children, Leanne (Jay) Overbee, Wendy (John) Gilmore, Tom, Gary (Lisa), Holly (Bob) Levy, Amy (Chris) Manderfeld, and Melissa (Jim) Smokrovich; grandchildren, Elissa, Britta (Seth), Crystal (Sunny), Joe, Allison, Michael (their mother Karla), Noah, Natalie, Jesse, Jeremiah, Jack, Scott, Will, Gretchen, Sam, and Sara; great-grandchildren, Renee and Wesley; great-great-grandchild, Demetrius; brother, John (Jean); sister-in-law, Judy; and many nieces, nephews, and cousins. She was preceded in death by her husband, Tom; her mother and father, Doris and Edson; her brother, Gary, and baby sister, Gail.

Special thanks to Frankie Saccoman, Colleen Palmisano, and the loving staff and friends at Arbor Lakes Senior Living, as well as the Interim care team.
Previous Events
Visitation
Our Lady of the Sacred Heart Catholic Church
118 Pennsylvania Avenue
Buhl, MN 55713
Memorial Mass
Our Lady of the Sacred Heart Catholic Church
118 Pennsylvania Avenue
Buhl, MN 55713
Cemetery Details
Location
Lakeview Cemetery
Morse Road
Buhl, MN 55713