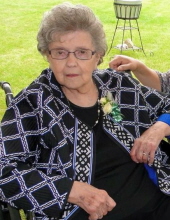 Obituary for Zona Marie (Jaksch) Urdahl
Zona Marie (Jaksch) Urdahl went to be with her Lord and Savior, Jesus Christ on April 3rd, 2018 at the Estate of Twin Rivers Nursing Home in Anoka, MN. She was born August 1, 1935 in White Earth, MN to Robert and Marcella (Vizenor) Jaksch. Zona grew up at Snowball Lake and attended school in Calumet and Coleraine. She married David Urdahl on September 7, 1956 in Duluth, MN. They lived in Chisholm, MN and started their family. Over the years the Urdahl family moved to Fargo, ND and then to Chisago City, MN before returning to the Iron Range in 1978. Zona was a member of First Lutheran Church in Buhl and had worked at the County Kitchen in Chisholm. For several years she made dreamcatchers for Four Winds North of Hermantown, MN. She loved being with her family and enjoyed bingo, lottery scratch offs and pull tabs and could often be found with scratch off dust on her lap. Zona moved to Ramsey, MN to live with her grand-daughter, Tabatha after David passed away in 2012.
She is survived by sisters Elaine Bjellos of Black River Falls, WI and Alice Johnson of Pengilly, MN. Children: Elvina (Jeff) Moyer of Monroe, WI, Dale (Pat) Urdahl of Chisholm, Lynette (Blaine Brazier) Urdahl of North Branch, MN and Dana Urdahl of Fridley, MN. Grandchildren: Jessy (Chad McNeil) Moyer, Joshua (Ashley) Urdahl, Jamie (Jaymie Corradi) Urdahl, Joel (Jessica) Urdahl, Tabatha (Anthony) Bohler, Samantha Urdahl and Emily Amsler. And, great grandsons: Alex, Timothy, Joel Jr., Lukas, Mathew and Justus. Also, many sisters-in-law, brothers-in-law, nieces and nephews, cousins and friends.
She was preceded in death by her husband, David, her parents and a brother Lawrence "Sonny" Jaksch.
A Celebration of Life will be held on Saturday, April 14, 2018 at Rupp Funeral Home & Cremation Service Chapel in Chisholm, MN at 11:30 a.m. Visitation at the funeral home will begin at 11:00.
Previous Events
Visitation
Rupp Funeral Home & Cremation Service Chapel
205 NW First Street
Chisholm, MN 55719
Celebration of Life
Rupp Funeral Home & Cremation Service Chapel
205 NW First Street
Chisholm, MN 55719