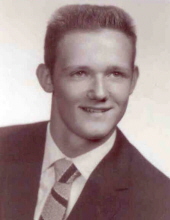 Obituary for Dennis R. Zlebnik
At Dennis's request, there will be no services. Arrangements are entrusted to Rupp Funeral Home & Cremation Service in Chisholm.

Dennis Raymond Zlebnik, 80, of Chisholm, died Wednesday, August 1, 2018, at St. Raphael's Health and Rehabilitation Center in Eveleth, MN. He was born July 8, 1938, in International Falls, MN, to Joseph R. and Ann M. (Carlson) Zlebnik.

Dennis was a Chisholm High School graduate and also attended Hibbing Junior College. He was a United States Army veteran. He lived in many places besides Minnesota throughout his life, including San Francisco and San Diego in California and Atlanta and Savannah in Georgia. He worked in the banking business and was an avid 49ers fan. Dennis was united in marriage to Bonita Louise Parker on January 1, 1989, at the Chapel of Ease in Beaufort, SC.

Survivors include his wife and caregiver, Bonita Louise Parker; children, Jack Edward Lindstrom (Chris Wu), and Lori Grace Zlebnik; granddaughters, Katherine Grace and Emma Grace Zlebnik; sister, Gloria (James) Jula; brother, Dale (Becky) Zlebnik; nephew, Aaron Zlebnik; special cousin, Gerald Nisula; sister-in-law, Chloe Ann Parker Taylor; brother-in-law, William Howard Parker; and special pets, Joujou, Fleur de Lys, and Cosette. He was preceded in death by his parents and his first wife, Lois Lindstrom Zlebnik.

Memorials are preferred to the Salvation Army of your choice. The family would like to thank St. Raphael's for their outstanding care.